Subscriptions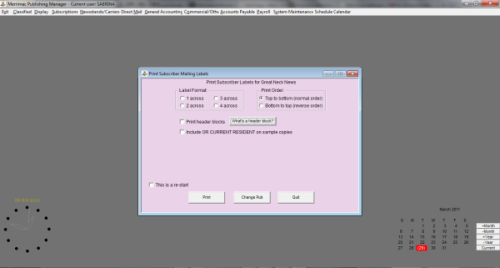 MerrimacPlus Circulation:
Manages your complete circulation needs
Helps you program your papers for on-time delivery, at the correct drop site, and for the best rates
Maintains demographic information on all subscribers – – especially useful for business and trade publications
Generates complete audit reports that meet the requirements of ABC, BPA, CAC, CVC and VAC
MerrimacPlus Subscriptions
helps you:
Maintain up-to-date subscription files.  These include full carrier route codes, expiration dates, and payments.
Mail to prospects and active subscribers.
Keep canceled subscribers on your list for promotional purposes until you choose to delete them.
Maintain "no mail" records to comply with subscriber requests.
Maintain summer and winter addresses for subscribers. The alternate address capability in MPM allows a subscription to be sent to a different address for a pre-determined period of time.
Switch from private carrier to postal delivery.  This is a useful feature when managing subscribers with changing delivery needs.
Track Advertiser Subscription Revenue
Treat advertisers as paid subscribers if you decide to include them on your mailing list. MPM automatically creates a journal entry to transfer the cost of a one-year subscription out of advertising revenue and into circulation revenue in compliance with second-class postal regulations. For publishers who conform to ABC audit regulations, the system can include the one-year subscription charge on the advertiser's bill as an option.
Samples & Complimentary Subscriptions
Add sample copies to your circulation list for a pre-determined length of time and frequency (every other issue for the next two months, for example). At the end of the sampling period these names can be taken off your mailing list and returned to their prospect status. Enter no-charge complimentary subscriptions with a review date. They will appear on a review list printed as part of your renewal run.
Renewals & Gift Subscriptions
Automatically send out as many as six renewal notices to your subscribers on a schedule that you set. Bill subscribers in a timely manner and suspend service for non-payment. Suspend service for reasons other than non-payment, and automatically advance the expiration date when service is resumed. Generate gift card labels automatically for all new and renewal gifts. Send gift subscription renewal notices to either the donor or the subscriber.
With MerrimacPlus, quarterly CASS postal certification updates are included. Whether you're mailing issues, invoices, or renewal notices, you'll qualify for the best possible postal discounts based on the appropriate use of carrier route sorting, bar coding, and walk-sequencing.
MerrimacPlus helps Maintain unduplicated Total Market Coverage (TMC) and walk-sequence lists.
MPM can help you qualify for the USPS's Computerized Delivery System (CDS). Generate complete mailing reports and Post Office-approved forms 3541 or 3602 for each issue.
Newsstand & Carrier Delivery
Whether your delivery routing and scheduling needs are simple or complex, MerrimacPlus helps you get your papers out on time and in the correct quantities.

The MerrimacPlus newsstand and carrier distribution module helps you:
Maintain delivery records for any combination of postal carrier, private carrier, and newsstand delivery schemes for publications.
Track deliveries and sales through an array of on-screen and printed reports.
Change drop counts, copy charges, and route sequencing at any time for any vendor.
Evaluate newsstand sales by issue, route, or vendor for any time period.
Sort full postal carrier route automatically. Carrier walking sequences can also be maintained for postal or private carriers.